Contact us
86-0543-5020677
Your present position:Home > JQF STONE BLOCK CUTTER
JQF STONE BLOCK CUTTER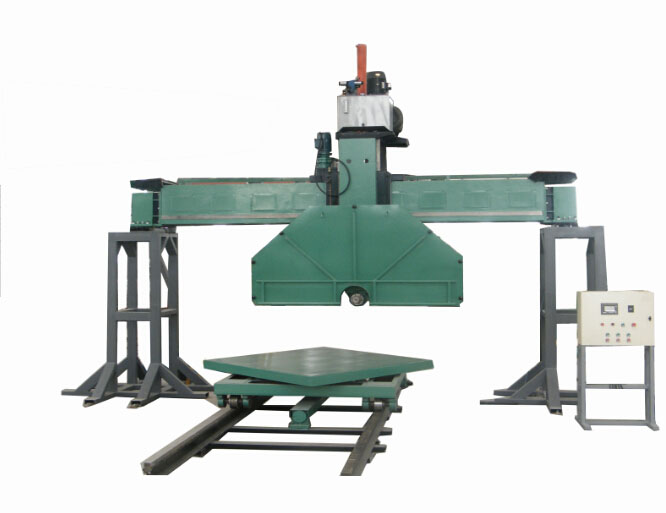 JQF Series Bridge Diamond Disc Stone Sawing Machines
1 Uses and features
JQF Series Bridge Diamond Disc Stone Sawing Machines are mainly used for cutting granite and marble.
1、These series machines have reasonable structure and stable working conditions, the usage cost is low and cutting efficiency is high, the cutting surface is smooth and clean, with high ration of finished products, no mechanical breakage and no rust erosion.
2、These series machines can be used for cutting over 10mm thickness of granite and marble plate, various specifications of platform, tombstone and material stone for arts and crafts.
3、These series machines are easy to operate and safe to use depending on the interlocking and safety devices in automatic electric parts. The controlling system has two types of manual and automation. According to different hardness of stone, the feeding speed of carriage and vertical feeding of saw disc can be adjusted.
4、Adopted with diamond cutter and high speed grinding technology, these series machines have the features including high cutting efficiency, long usage life of blade and good cutting quality.
2 Main technical parameter:
Model

JQF180

JQF180Q

JQF220

JQF220Q

Maximum diameter of

disc (mm)

2200

2200

2600

2600

Cylinder number

1支

1支

1支

1支

Maximum cross stroke

of saw disc

3100

3100

3600

3600

Maximum vertical stroke

of saw disc

1100

1100

1300

1300

Maximum stroke

of s trolley

MT

AT

2500

MT

AT

2500

Area of trolley

(L*W) (mm)

1700*1700

1700*1700

1700*1700

1700*1700

Total capacity(KW)

35

36.5

42

43.5

Over all dimension

(L×W×H)(mm)

6500*5150* 6500

6500*5150* 6000

7000*5150* 6500

7000*5150* 6000

Weight (kgs)

6000

6500

7000

7500